Planning to buy home appliances or furnishings? A new mobile phone or smartwatch maybe? An upcoming insurance premium or property tax to pay? An AC or a trip to Goa to beat the heat, perhaps?
Keen to use your OneCard but wondering how to make repayment for these purchases? 🤔
EMIs (Equated Monthly Instalments) are a wonderful way of managing large purchases. This facility allows you to convert a single purchase into smaller instalments spread across several months and helps to avoid a strain on your finances.
However, from actual conversion to understanding interest and other charges, knowing the status of payments done/pending etc, the process can often be tedious, with multiple emails and long phone calls.
Also Read: How is Credit Card Interest Rates Calculated and How to Avoid Paying Them?
It's time to say goodbye to pending email queries and long wait times on the phone, and focus on just celebrating the good times with OneCard EMI, a completely digital process which takes less than 5 minutes on your OneCard app.
Introducing OneCard Credit Card EMI
Open up a world of convenience and benefits by using your OneCard credit card to shop in full and pay in parts. Your OneCard EMI comes loaded with some power-packed features:
✔ Completely digital process - no documentation required
✔ Interest rate of 1.33% per month - among the lowest around
✔ Repayment tenure from 3-24 months - as per your convenience
✔ No confusion and fine print - full transparency on fees and charges
✔ No calling or emails - smart in-app dashboard to keep track of your EMIs
You can convert purchases of Rs.2,500 and above to EMI. Transfers, cash withdrawals, spends on gold, jewellery, fuel, lottery/gambling sites are not eligible for conversion to EMI.
Just tell us in how many months you want to repay, and we'll offer you a deal you can't refuse.
Here's where it gets even more awesome:
- You get reward points on transactions converted to EMI
- You can even repay your EMIs with reward points
Sweet, isn't it? 😎
The OneCard EMI Dashboard
You can view and manage all information about your EMIs in one place - the powerful EMI Dashboard.
- Convert transactions to EMI
- Track the status of all EMIs
- Transparent allocation of charges
- Check how many EMIs are paid/pending
- Foreclose EMIs with just a tap *
Credit Card EMI Calculator
The dashboard also has a powerful EMI Calculator which you can play around with by inputting different amounts and tenures.
Unlike most EMI calculators which just show a basic conversion, the OneCard EMI Calculator shows you an actual representation of the overall charges and EMI payable and is identical to the amounts shown once you actually proceed to convert a transaction to EMI, which helps you in making an informed decision.
How OneCard Credit Card EMI Works
To convert your purchase to an EMI,
- Open the EMI Dashboard in your OneCard app
- Select a transaction you wish to convert to EMI
- Confirm in how many months you wish to repay it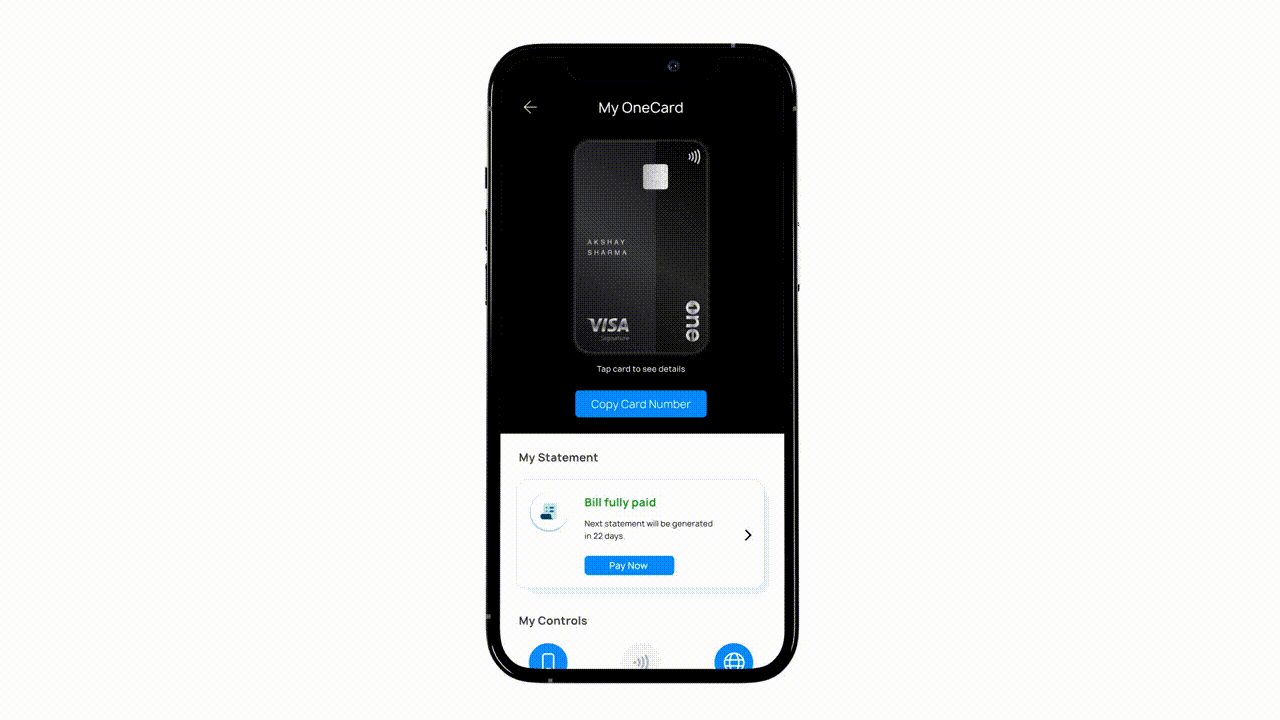 Voila, that's it! 🎉
Your transaction has been converted to EMI, and you will receive a confirmation notification, as well as an SMS and email with more details.
Convert a transaction to EMI now from your OneCard app and see how easy it is, and do share your feedback as well.