What's one thing you love the most about credit cards? Most of us would say reward points. I mean you are literally getting rewarded for spending. Not something your parents may approve of, but definitely something your friends would take equal pleasure in.
Credit card is millennials' best friend for a lot of reasons. The top one is, it's a great way to save money when used smartly. Here are some of the best ways to maximize your credit card rewards: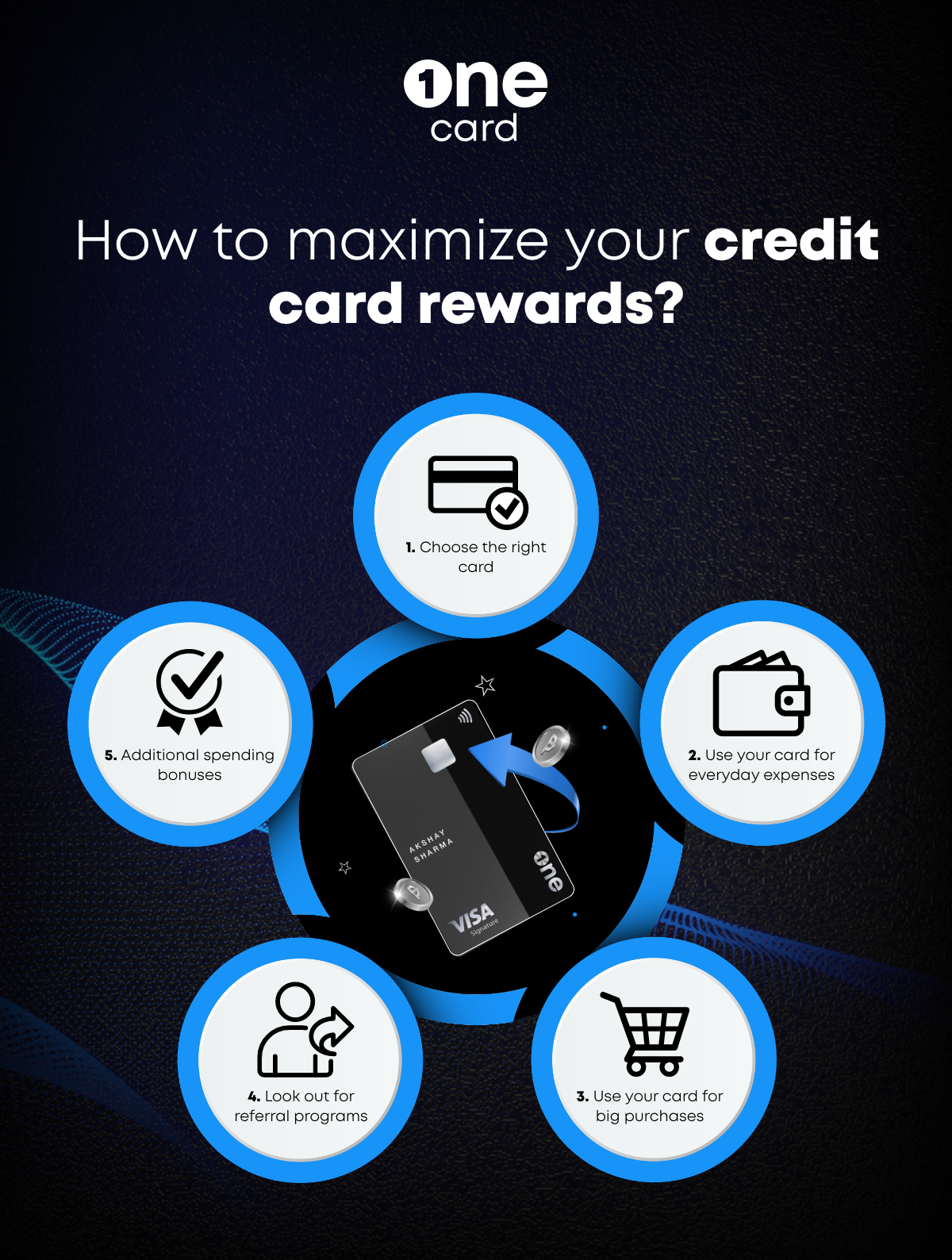 1. Choose the right card:
Get a credit card that matches your spending habits. Basically, analyze your expenses to figure out where you spend most and seek credit cards that offer the most value on those services. For example, if you frequently travel internationally, you might benefit from a card with low forex fees. If you order in often, you would prefer a credit card with great offers on food delivery apps.
2. Use your card for everyday expenses:
Use your credit card for everyday expenses like groceries, and utility bills to maximize your rewards. Just ensure you only spend what you can afford to pay off in full each month to avoid interest charges.
With OneCard , you can win reward points reward points on every purchase. No spend is too little or big for winning OneCard rewards, which you can redeem anytime, anywhere.
3. Use your card for big purchases:
Planning a big purchase or a vacation? Your credit card not only lends you a helping hand but also helps earn attractive returns. Just ensure that you pay off the balance in full and on time so you don't attract any interest or late payment fees.
Also Read: What is late payment fees and how to avoid it?
4. Look out for referral programs
Most credit card issuers offer attractive referral programs, and it's quite easy to avail of the benefits. All you have to do is share a referral with your friend and once your friend joins the card, the reward points get credited to your account. The best thing about referrals is that you can refer multiple friends and win as many reward points as you want.
5. Additional spending bonuses
Many card issuers tend to offer periodic rewards in certain categories. For example, onecard offers 5x rewards on the top two spend categories. All you have to do is spend in any three categories of your choice to avail of this benefit.
Have you tried any of these hacks? Better late than never, check out the simple ways to win amazing reward points on OneCard, download now.