The future of credit card usage in India looks promising with a growth rate of 25% in credit card issuance in the year 2021-22 despite the absolute usage being low as compared to other high-growth economies. With more and more young adults realizing the benefits of using credit cards, there is also a demand for higher credit limits for users to be able to make the most of these cards.
If you too are looking to make your next big-ticket purchase with a credit card or simply want to maximize the benefits of your credit card, this blog can help you with it all!
ALSO READ: How to use credit cards responsibly


Top Three Ways To Increase Your Credit Card Limit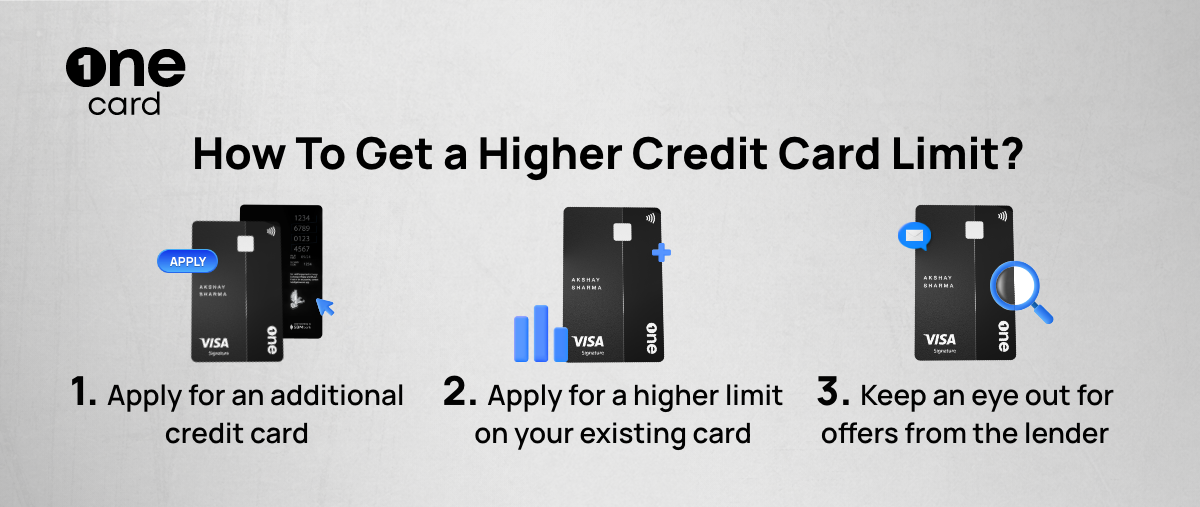 While credit limits are at the discretion of credit lenders, there are many ways in which you can increase your credit limit, whether it is increasing it on the same card or by using multiple cards. Based on your specific requirements, you can pick one or more of the following ways:
1: Apply for an additional credit card
One of the easiest ways to increase your credit limit is by getting more than one credit card. It goes without saying that this way must be adopted with caution as you do not want to fall into a debt trap. Many people choose this way as the hassle is typically less compared to increasing your credit limit with an existing lender. Having multiple credit cards also helps you spread your debt across multiple cards, with different payment cycles, making timely repayments easier. For example, one of your credit cards might have a repayment timeline at the end of the month, whereas another credit card might have the same at the middle of the month. This will give you enough time between repayment dates to gather funds in case you fall short of the same.
2: Apply for a higher limit on your existing card
In case you want to stick to only one credit card, you can also contact the support team of your existing credit card lender to increase your credit limit. It may not always be possible to negotiate a higher credit limit with your lender. However, in case the lender finds you eligible and depending on your credit history, they may ask you for supporting documents such as income proof to process your request further. Also, most of the traditional credit lenders might have different types of credit cards that are differentiated basis usage limits, eligibility, category of usage, and other factors. In such cases, you might be required to upgrade your tier in order to increase your credit limit to a higher level.
3: Keep an eye out for offers from the lender
If your credit history is good and if you have been a loyal customer to a lender, they will send you offers at regular time intervals to increase your credit limit with them. Some lenders may also offer an annual increase in credit limit if you have paid the bills on time. Even in the cases where the lender is offering you a higher credit limit, you will need to furnish supporting documents such as income proof and others for getting your request processed further.

How to Influence Your Lender To Give You a Higher Credit Card Limit
While any individual can apply for a higher credit limit, the final decision of providing one lies with the vendor. However, there are certain ways that you can adopt in the long term that can positively influence your lender to keep giving you offers and increase your credit limit. Let's take a look at some of them.
1. Making timely repayments
Your credit history, that is how timely your past repayments have been, has a weightage of 30 percent in your CIBIL score. Thus making timely repayments is very essential to ensure lenders consider you trustworthy and therefore provide you with a higher credit limit. In case you are unable to make the required repayments in full, make sure to at least pay the minimum amount due (MAD) to avoid an adverse impact on your credit score.
2. Sharing your latest income information
Lenders will not automatically know the change in your financial status. Hence most of them will ask you to furnish your latest income information regularly. This helps them provide you with better products and services that are suited to your requirements. The income information should ideally include both your salaried income as well as any side incomes you might have. A higher income automatically boosts your eligibility for a higher credit limit.

3. Maintaining a low credit utilization ratio
Credit utilization is another big factor that contributes to your credit score. It has a weightage of 25 percent in your CIBIL score. Maintaining a low credit utilization, that is not exhausting your credit limit and keeping it to an optimum level, shows the lenders that you are financially responsible.
4. Keeping a track of your credit score
Just like any other metric, the credit score is something that you should check proactively and not just before availing of a credit-based product. This is because checking your credit score at the last minute is not going to help you improve it. Check your credit score in less than 5 minutes using trustworthy apps such as OneScore while saving yourself from getting spammed!
5. Reducing your debt
While this may not always be possible, engage in financial planning to clear your debts from time to time. For example, instead of exhausting your annual bonuses by buying more products, you can save them up to foreclose some of your loans. Reducing liabilities helps improve your creditworthiness as lenders can see that you are financially responsible.


ALSO READ: How to use credit cards responsibly


Final Words
There's no doubt that a higher credit limit makes life easier! However, without appropriate caution, there is a high risk of falling into a debt trap where you spend way too much than you can afford to repay. Making yourself financially sound and keeping a tab on your credit score can help you avoid such unpleasant situations.

Looking for a new card to upgrade your credit limit? Check out OneCard, India's best metal credit card, built with full-stack tech for a seamless experience.