This is the digital age, and we all have been enjoying its perks. From transferring money to purchasing anything online to learning new skills, the possibility of being in this age is immense.
While there are multiple benefits of the digital age, the few vices that are there can be avoided by staying vigilant.
To stay vigilant, it's important for you to understand first how fraudsters can misuse your personal information leading to online fraud. Over the course of a few months, we will be covering multiple topics around staying safe online and how you can protect your data from fraud.
Let's start with one of the most common approaches being used by fraudsters today to get access to your personal information - Screen Mirroring.
What is Screen Mirroring?
Screen mirroring lets you share your screen with another device's screen. The most common way to share or mirror your screen is by downloading a screen mirroring app. But not all screen sharing apps are verified.
How are fraudsters using screen mirroring?
There have been multiple cases in recent times where fraudsters impersonate themselves as a bank representative and ask users to download these screen sharing apps and then ask you to share a code for verification purposes. Once done, these apps enable fraudsters to view all your personal information like CVV, OTP, card number, etc.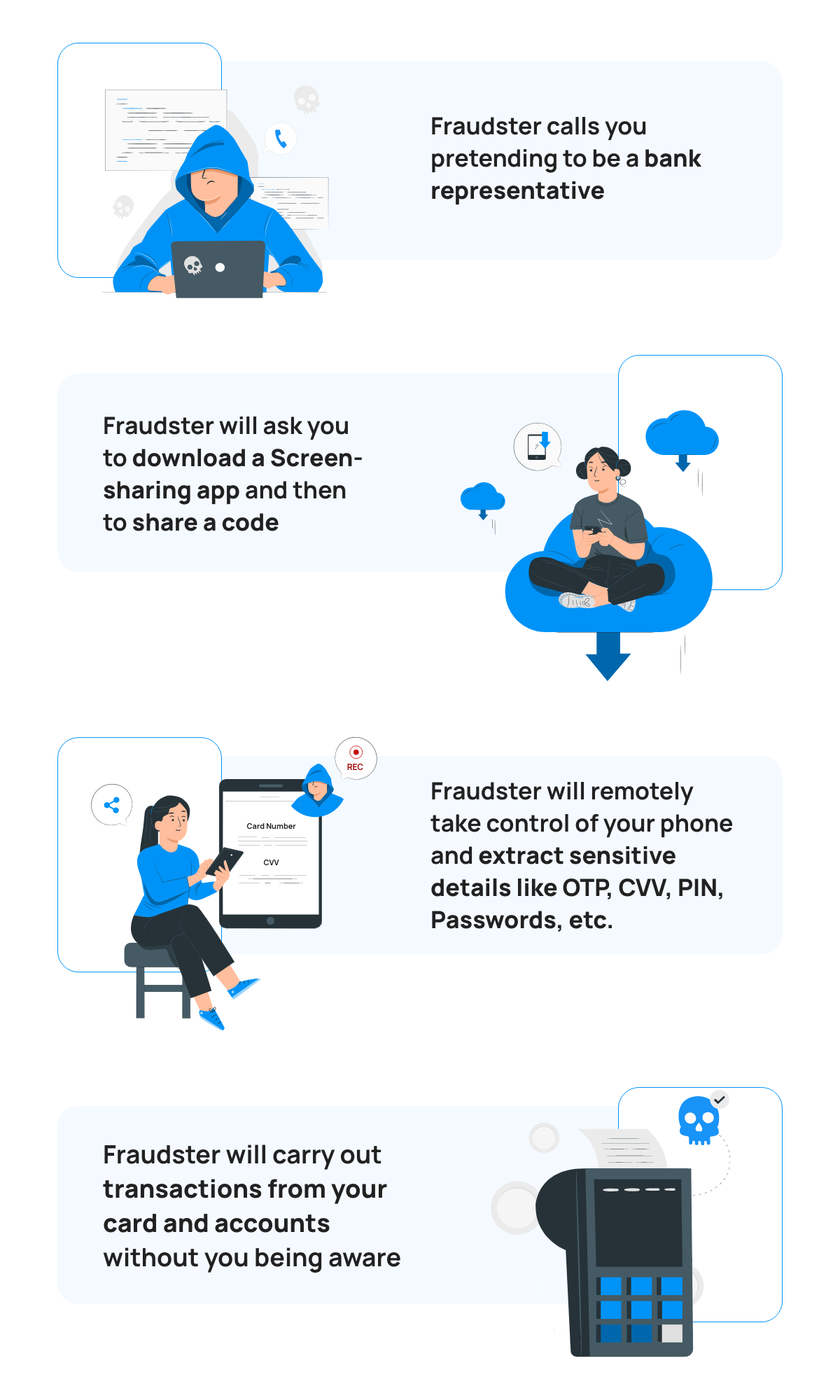 If you are a OneCard user, you've got nothing to worry about! We've got you covered. To ensure that your personal information remains secure, we've disabled screen share permission to other apps. Another thing to remember here is that OneCard will never call you and ask for sensitive details like your CVV number or to download any app. In case you do get a call from OneCard asking for the same, immediately reach out to us at reportfraud@getonecard.app. In case you have already been targeted by a fraudster or hacker, here are a few steps for immediate damage control:
- Immediately block your card from the MyControls section of your OneCard app
- Contact our customer support via chat or write to us at reportfraud@getonecard.app
- Lodge a complaint with the nearest Cyber Crime Police Station / National Cyber Crime Reporting Portal at cybercrime.gov.in/ or call on helpline number 1930
You can avoid falling into such traps by staying aware and taking the right steps.