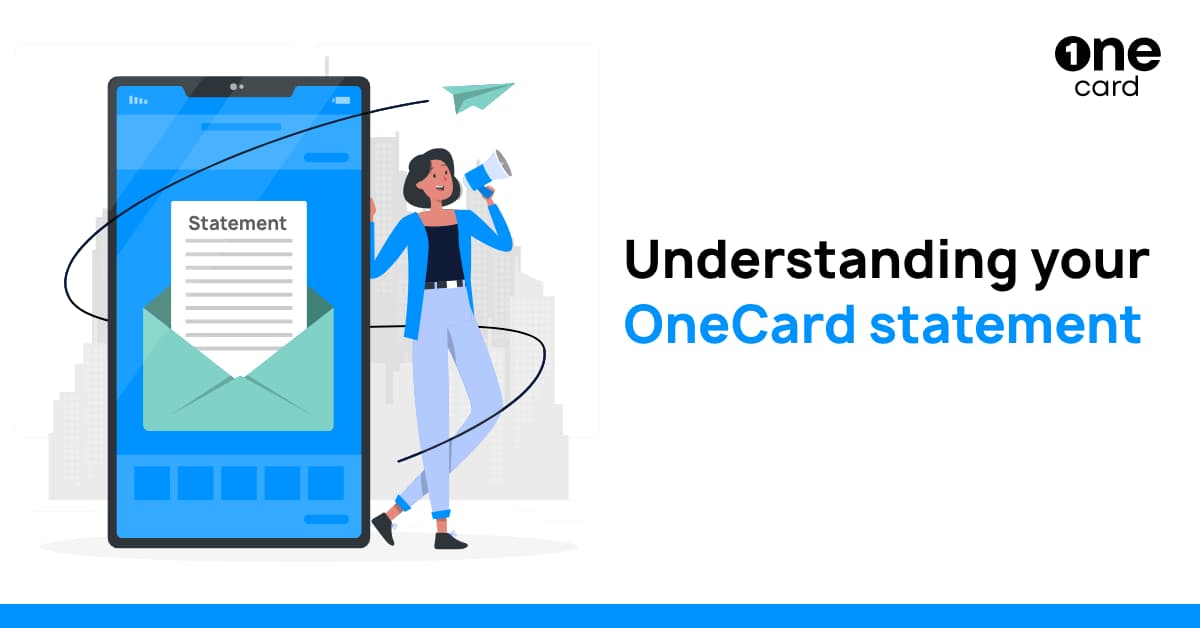 We've now completed two calendar months since we began issuing OneCards towards the end of May. Exciting times for us, and we hope, for you as well, using your shiny new OneCard both online and offline.
Every month, we put together details of all your monthly spends as well as those hundreds of reward points you've earned, into a statement that we can present to you in a simplified manner. Hope you've checked your latest statement.
Your OneCard Statement
Your OneCard statement shows you all your spends for the month as well as credits (such as refunds, chargebacks), reward points balance and more.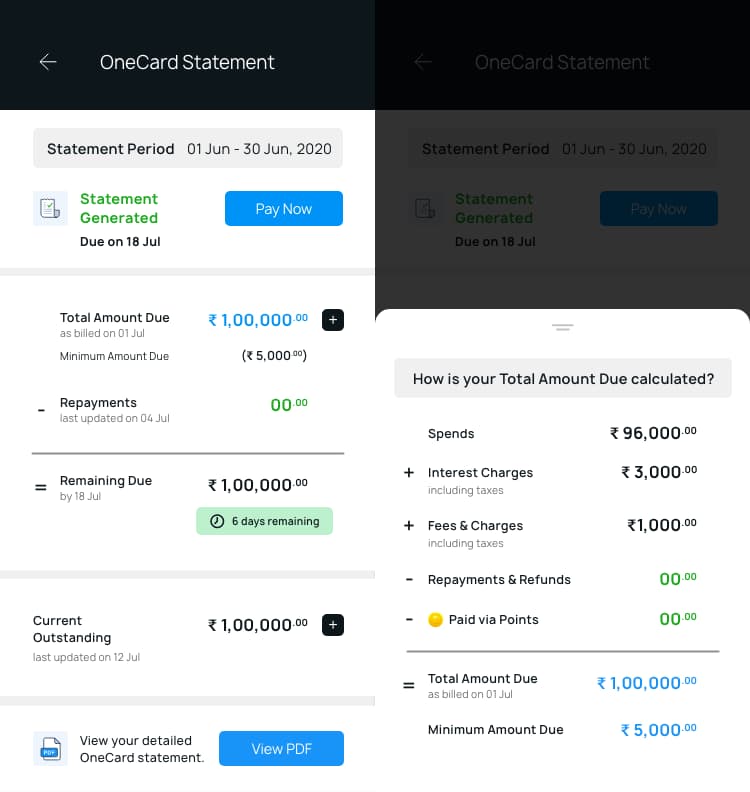 You can view it in the app and some of the key items to look out for are:
Total Amount Due (TAD): the total amount due on your card when the statement is generated.
Minimum Amount Due (MAD): this is the amount you must pay by the payment due date to keep your card account in good standing
Payment Due Date: the date by when payment must be done. You can also choose to pay a custom amount that is more than the Minimum Amount Due and lesser than Total Amount Due.
Interest Charges: the amount that is charged on the unpaid amount from the previous statement as well as any on new spends in the current statement
Fees & Charges: these refer to fees levied separately such as Late Payment Fee, Over Limit Fee, or Forex Fee (on your foreign currency transactions), and includes GST and other taxes as applicable.
Repayments & Refunds: any repayments you make during this period are shown here, and reduced from your outstanding dues. Amounts received as refund or chargeback are also mentioned here.
Paid via Points: your OneCard has a facility to repay your purchases using the reward points you've earned. Once you accumulate enough points, you can swipe on a purchase to repay it, and the redemption amount is displayed here.
Get Statement as a PDF
A PDF statement makes it super easy to submit while claiming any reimbursement or even for sharing with your Chartered Accountant. Instead of searching your email Inbox, just tap on "View PDF" to view your statement in PDF format in the app. You can download it from your phone as well.
Transparent and Daily Interest Calculation
Besides details of spends and credits, the statement also contains information about interest levied (if applicable). We calculate interest daily and this helps you in making the payment with lesser charges without waiting till the next statement is generated.
Eg. if your payment due date is 18-Aug and you make a part payment or remember to make any payment only on 20-Aug, you can view the interest payable for 2 days, and make the payment on 20-Aug. This way, you don't need to wait till 01-Sep for the next statement, and incur interest charges for the entire month.
How interest-free credit period works on your OneCard
When you make a purchase and have no previous outstanding dues, you get an interest-free credit period, depending on your date of purchase.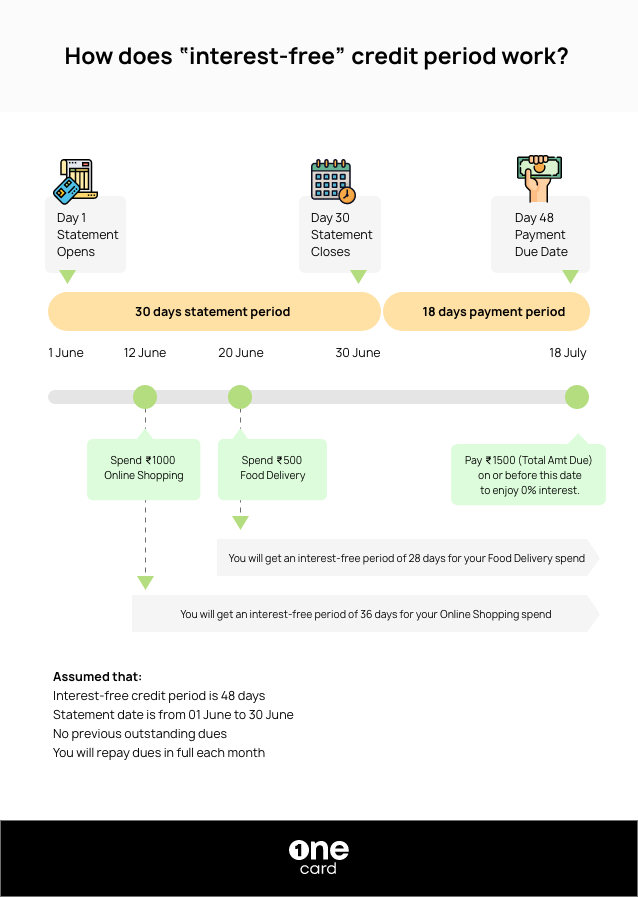 ProTip: If you typically make the full payment each month, the best time for a fresh purchase is once you get your statement - this would give you an interest-free period of 48 days.
Pay your OneCard bill directly from the app
The best part is - if you make the payment from the OneCard app, your credit limit is restored immediately! Isn't that awesome? 😎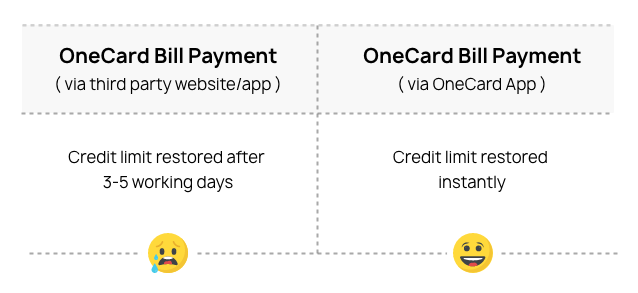 No need to wait for 3-5 days after paying from a third-party website or app. Just make the payment from the OneCard app via UPI, Debit Cards, or Netbanking, as per your convenience.
Paying at least the Minimum Amount Due by the payment due date:
- helps to avoid late payment charges
- ensures that your account is not reported to credit bureaus
Of course, if you pay the Total Amount Due by the payment due date, you avoid paying interest charges too. Win-Win!
Remember: With great power (of your OneCard), comes great responsibility!
Sharing is caring 😉